---
​​Artist's Studio Tour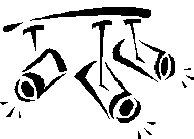 ---
Click on the link below for a complete up to date resume for showings, experience and education
Artist Statement

Mission
"Painting allows me new ways to express the layers of feelings that come with trying to live life in a meaningful way despite my severe physical constraints. Through my changing perceptions and times of reflections, I've developed a deeper understanding of the relationship between society and myself. During times of reflection, creation and creativity are their most open to symbols and change, in relation to the symbols themselves and to who people are as developing souls."
Media Description
Currently in mixed media format Gregory Rogers mixes acrylics, oil pastels, chalk, and India ink on paper. This mix of media offers rich textures and color contrasts that go from subtle transitions to sharp pop-out effects. He continues this style in his oil paintings adding a touch more realism to his paintings while keeping lively color contrasts with both subtle and pop-out transitions. His lively style and fluid motion within all of his paintings allows the viewer to build many personal meanings from the painting or simply to enjoy the sheer joy of the color on the page.

In addition, Greg developed a unique abstract style using black BIC ballpoint pen. Using amoeba like patterns to fill a page, Greg carefully inks in certain sections of the design to create a stark lace like effect of blacks and whites. In some later works, red, green or blue ballpoint pen work has been added. The BIC pen technique allows for the development of texture on the paper while giving the design a luminescent quality.
​
Artist Profile
Gregory Rogers of 1231 Adams Street in Dorchester, Massachusetts (formerly of Palmer, Massachusetts) came to the art field quite by chance but remained because art fulfilled a deep and personal aesthetic need. Being born with Amelia (absence of an arm on the left side), and Phocomelia (absence of most of an arm on the right side), Gregory Rogers uses his feet to accomplish most fine motor skill tasks including his painting.

In the fall of 1994, Greg began attending the Springfield Technical Community College Liberal Arts Transfer Program. Gregory selected as many art courses as possible there. During the same period of time, Greg began attending art courses at the George Walter Vincent Smith Museum in Springfield. Accepted into the 2D Fine Arts major at Massachusetts College of Art in the fall of 1996, Greg continued on for the next four years to receive their bachelor of fine arts degree in painting. During his time at Massachusetts College of Art under Professor Kofi Kayiga, Greg's work moved from oil painting using traditional methods to his current work that involves mixed media on paper. Greg has moved from traditional still life to abstract expressionism as a more profound method of expressing the deeper understandings that life in the arts has brought him.